Quinte's Garden Essentials Centre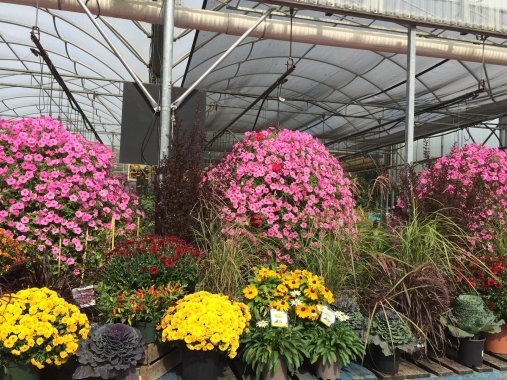 Visit the Hollandale Garden Centre in Trenton and discover the garden essentials that will help your garden to grow and thrive! Our garden specialists are on location and ready to provide you with the essential gardening advice you need to create your perfect garden paradise.
We make gardening easy for you!
Whether you are a beginner gardener or have years of experience growing and maintaining your flower bed, Hollandale has the essentials required to help get the job done! With a large selection of high quality mulch, fertilizer, gardening tools, peat moss and more, we are your one stop shop in Quinte for all your gardening needs! With 10,000 square feet of garden essentials, you are bound to find the exact tools, products and plants that you are looking for.
Garden Soil Essentials at Hollandale Garden Centre
We provide a large selection of high quality garden soil essentials for our Quinte gardeners - always striving to give you the right soils for your garden!
Mulch
Fertilizer
Peat Moss
And More!
Keeping your garden soil fresh and healthy is essential in keeping it thriving. Using these soil essentials will not only improve the look of your garden as a whole, but they will also aid in keeping your soil moist, improving its fertility and preventing excessive weed growth. Whether you are protecting your soil from the outside, with top quality mulch, or from the inside, with nutrient-filled fertilizers, Hollandale, just outside of Belleville, has the perfect solution!
Garden Tool Essentials at Hollandale Garden Centre
Our large selection of high quality garden tool essentials at Hollandale in Trenton allows us to provide our Quinte gardeners with the right tools at the right time - no matter what season you are planning to garden in! We provide the tools and products needed to prepare your garden for frost, plant your spring bulbs, prep your soil for fresh sprouts and maintain your garden all summer long!
Pruning Shears
Spades
Garden Forks
Rakes
Garden Hoses
Watering Cans
Wheelbarrows
And More!
Visit Quinte's Garden Specialists
Every garden is unique - whether that be in relation to its location, appearance, soil type, amount of available sunshine etc. At Hollandale Landscaping and Garden Centre Ltd., we strive to provide you with the necessary tools and inspiration to create and maintain the garden of your dreams. Let's get your garden growing healthy again! With the right amount of essential gardening care, your flower beds will be thriving in no time
Hollandale Garden Centre also provides a large selection of gift shop items in our Garden Centre that will enhance your garden's unique display. Whether you are looking for that perfect garden accessory to tie your floral arrangements together or that unique stone feature that will make your garden stand out, our garden centre is fully stocked with all of the essentials.
It's time to tend to your garden and watch it flourish! Contact our garden specialists at (613) 392-7806, visit our Garden Centre on Hwy. 2 in Trenton or request an appointment with our qualified landscaping and gardening experts by filling in the form below!
Get In Touch With Our Gardening Specialists at Hollandale Today!
Please complete the form below and our sales or Service team will be happy to discuss your need with you and a solution that best fits your request.